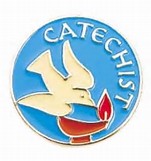 One of the finest ways to heed the call to evangelize is by participating in Religious Educations for Youth right here at Sacred Heart. If you have or haven't had experience instructing, we WANT you to be a part of the team!
There is no more joy than to watch our young people develop their faith and spirituality. Lesson plans are already in place, resources are insightful and extremely easy to follow, and the students are delightful.
Please contact Rose Harrigan for additional information at 501-915-0314 evenings, or 501-664-0125 between 9:30 a.m. and 3:30 p.m. Monday, Tuesday, Wednesday or Friday.